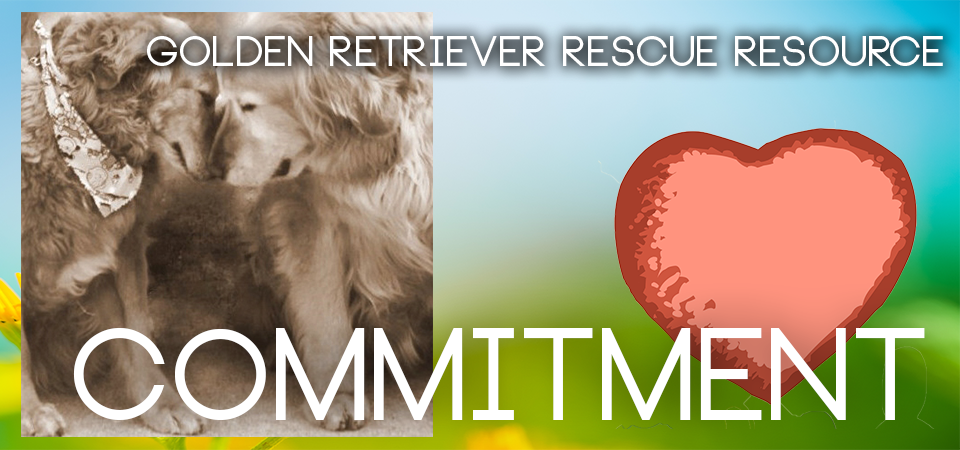 Your Lifetime Commitment
Thank you very much for your interest in adopting a rescued Golden Retriever dog from Golden Retriever Rescue Resource, GRRR, Inc. If you can provide a lifetime, loving and caring home this special golden retriever deserves, we want to be able to offer you a dog that will be a wonderful and good fit for your family and life style.

Our rescue is a non-profit organization run by a very small group of dedicated volunteers. That being said, adoptions can take 1 to 8 weeks depending upon the dog and where you live. There is a process behind each adoption.

Our golden retriever rescue serves the Ohio, Michigan and Indiana areas. Our main volunteers are in a certain geographical area of northwest Ohio and southern Michigan, and we only allow adoptions in the areas where we can do a home visit by a trusted volunteer. Dogs are family to us and we love each and every one of them that comes into this rescue and we are committed to that dog for the rest of its life.

Please understand no one gets paid one dime, not one. In fact, it often costs money to volunteer. Most people who volunteer for rescue have jobs, a family and usually many dogs. Our volunteers work one or two jobs and balance family and an outside life around rescue. Trust us, we wish we can make a living around rescuing dogs. We would put a lot more time into it if we could. We actually wish there wasn't a need to rescue dogs at all, but of course there is.

We understand like everything else we all want whatever "it" is right now, whether a cup of coffee, a new car or a dog. But before you get upset about how long the adoption process takes, please consider that we are doing the best we can. So don't yell at us for taking too long or for adoption policies you deem unfair. These policies are typical of all golden retriever rescues. They are put into place after years of volunteering in dog rescue. So, be nice as truly it is the only way to be in life.

Below is a lot of information, but it is important you read through this material before you consider adopting one of our rescued golden retrievers. So sit back, relax and let's dive in...
Dog Adoption Policies

You must physically live in the great states of Ohio, Michigan or Indiana. To adopt you must be a person or family who has qualified our criteria for proper, responsible ownership. This is not limited to...

1. Inside lifestyle with a safe, supervised outside environment, a fenced yard is required. No boundary training (meaning not off-leash in the yard unless there is a physical fence or the dog is trained to your invisible fence boundaries). There are no exceptions and a fence must be installed prior to adoption. We still get many emails asking for an exception and we're very sorry, but there are no exceptions. If you adopted a dog from us in the past when our fenced yard policy wasn't in place please contact us. Here's why this policy was changed and put into place.
FAQ? Why a fenced yard?
Here's why...
A fence is just an added security measure because people do tend to start to trust their dogs to go out and do their business and they look away and the dog is gone. Unfortunately, we had dogs lose their lives because their owners trusted them to stay in the yard. The policy had to be put in place because we were wasting a lot of time on people who would insist they would not boundary train the dog, then a few months later the dog would be found wandering because it was "trusted" by the person who didn't feel like going outside when it was -10 degrees.

Every time we get a younger golden retriever in to our rescue, we have approved candidates waiting. We started laying down guidelines because we all are volunteers and our time is so limited. We need to be as effective as we can in rescue, and our number one concern is the dog. As with everything, when rules are made there are people that are unfairly affected. This could be you and for this we are truly sorry. However, when we break the rules for one then there is another whole gray area that forms and causes more problems than it solves.

We hope this answers your questions as to why the fenced yard policy is in place. We are not in a hurry to place these dogs, they are in loving foster homes while they wait to go to their forever home. Because of this, we have a very high success rate with dogs actually staying in their forever home. They have been through enough being in rescue in the first place.
Also, the dog must be given time to adjust to his or her new surroundings. This is extremely important because it takes time for a dog to adjust to a new home environment, approximately 4 weeks or more.

2. Dog will be returned to this rescue if the adopter cannot keep the dog for any reason. We want and will take the dog back. You also understand this dog cannot be sold to anyone, ever.

3. The dog will have shelter from the elements at all times, a fenced in area or on-leash area when outside and be given good quality nutritional food and clean drinking water.

4. The dog will wear a collar with current license tags and ID tags. This is also very important and ESPECIALLY important when the dog first arrives in a new home situation. Your dog must be licensed within 4 weeks of acquisition.

5. The dog will kept kept on leash whenever outside of fenced area. The dog will never be transported in an open truck.

6. The adopter may be required to successfully complete a basic obedience class (s) with the dog.

7. The adopter agrees to notify Golden Retriever Rescue Resource, GRRR, Inc. with any address or phone number change.

8. By adopting a dog from Golden Retriever Rescue Resource, you are allowing us from time to time to check back in on dog, including readmission for a home visit to assure compliance with this agreement.
9. The adopter agrees to notify Golden Retriever Rescue Resource if the dog is ever lost or stolen so that we can help you immediately.